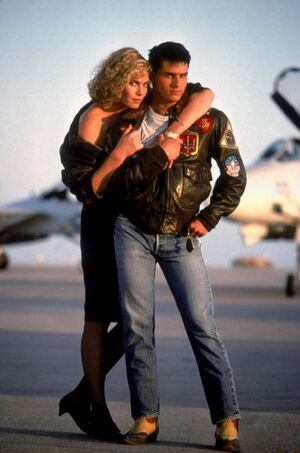 Tom Cruise is an American actor and producer. He was born on July 3, 1962, in Syracuse, New York.
Tom Cruise became known for playing Steve Randle in the The Outsiders, Joel Goodsen in Risky Business, and Stefen Djordjevic in All the Right Moves, all in 1983, and especially for portraying naval aviator Pete "Maverick" Mitchell in Top Gun (1986). He has since then appeared in more than forty cinema films, among others Rain Man (1988) and the Mission Impossible trilogy (1996/2000/2006).
Images
Public appearances
Photoshoots
Onscreen
in Levi's jeans as Steve Randle
Risky Business (1983)
in Levi's jeans as Joel Goodsen
All the Right Moves (1983)
in Levi's jeans as Stefen Djordjevic
Top Gun (1986)
in Levi's jeans as Maverick
External links
Ad blocker interference detected!
Wikia is a free-to-use site that makes money from advertising. We have a modified experience for viewers using ad blockers

Wikia is not accessible if you've made further modifications. Remove the custom ad blocker rule(s) and the page will load as expected.