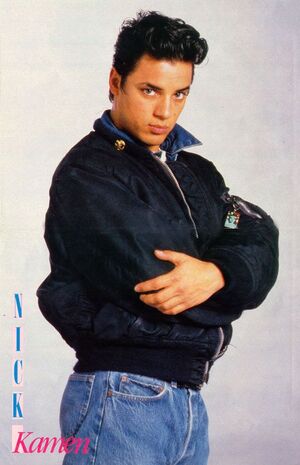 Ivor Neville "Nick" Kamen is an English model, songwriter and musician. He was born on April 15, 1962 in Harlow, Essex.
Nick Kamen published his first single Each Time You Break My Heart, which reached place 5 at the UK charts, in 1986 and his eponymous début album in 1987. He released four studio albums and 15 singles.
For Levi's, Nick Kamen has worked as a model in the 1986 TV commercial "Laundrette" for Levi's 501 jeans.
Images
Public appearances
Photoshoots
Magazine scans
Onstage
Modelling for Levi's
1990 commercial 'Laundrette' for 501 original jeans
Videos
External links
Ad blocker interference detected!
Wikia is a free-to-use site that makes money from advertising. We have a modified experience for viewers using ad blockers

Wikia is not accessible if you've made further modifications. Remove the custom ad blocker rule(s) and the page will load as expected.