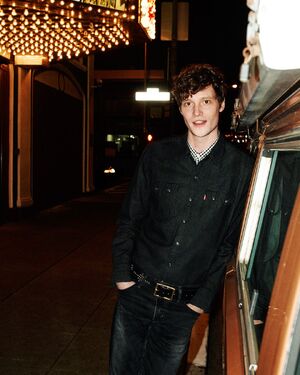 Matthew James Hitt is a model and the lead singer and guitarist for the indie rock band Drowners. He was born circa 1988 and raised in Rhondda, Wales.
Matthew Hitt graduated in in English literature at Cardiff University. He was a member of the band The Muscle Club in London. in 2011, he moved to New York City in order to pursue modelling. There, he founded the indie rock band Drowners.
For Levi's, Matthew Hitt has worked as a model in the fall/winter 2016 advertising campaign. He also starred at the 505C Launch Event on July 19, 2016 in New York City.[1]
Images
Public appearances
Onstage
Modelling for Levi's
External links
References
↑ Levi's Revisits Rock Heritage with Launch of 505C Slim Fit Jeans at www.thefashionisto.com, August 15, 2016
Ad blocker interference detected!
Wikia is a free-to-use site that makes money from advertising. We have a modified experience for viewers using ad blockers

Wikia is not accessible if you've made further modifications. Remove the custom ad blocker rule(s) and the page will load as expected.