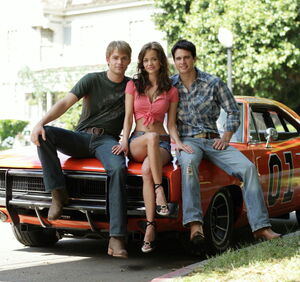 Jonathan D. Bennett is an American actor and model. He was born on June 10, 1981, in Rossford, Ohio.
Jonathan Bennett became known for portraying Adam "J.R." Chandler Jr. in the All My Children TV series (2001-2002) and Aaron Samuels in Mean Girls (2004). Since then, he appeared in various TV and cinema films, among others as Bo Duke in The Dukes of Hazzard: The Beginning and as Van Wilder in Van Wilder: Freshman Year.
Images
Public appearances
Photoshoots
Onscreen
Videos
External links
Ad blocker interference detected!
Wikia is a free-to-use site that makes money from advertising. We have a modified experience for viewers using ad blockers

Wikia is not accessible if you've made further modifications. Remove the custom ad blocker rule(s) and the page will load as expected.