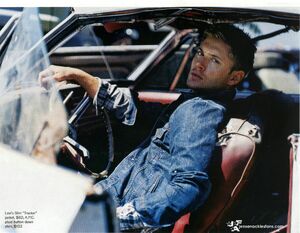 Jensen Ross Ackles is an American actor and director. He was born on March 1, 1978, in Dallas, Texas.
Jensen Ackles is best known for playing Eric Brady in the Days of Our Lives TV series from 1997 to 2000 and Dean Winchester in the Supernatural TV series from 2012 to present.
Images
Public appearances
Photoshoots
Onscreen
External links
Ad blocker interference detected!
Wikia is a free-to-use site that makes money from advertising. We have a modified experience for viewers using ad blockers

Wikia is not accessible if you've made further modifications. Remove the custom ad blocker rule(s) and the page will load as expected.