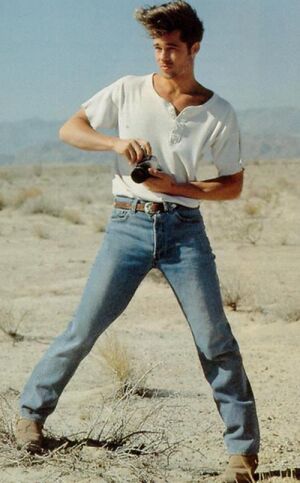 William Bradley "Brad" Pitt is an American actor and producer. He was born on December 18, 1963, in Shawnee, Oklahoma.
Brad Pitt became known for playing J.D. in the 1991 movie Thelma & Louise and has since then appeared in numerous cinema films, among others as Louis de Ponte du Lac in Interview with the Vampire (1994) and as Tyler Durden in Fight Club (1999) .
For Levi's, Brad Pitt has worked as a model in the 1990 cinema and TV commercial "Camera" for Levi's 501 jeans.
Images
Public appearances
Photoshoots
Onscreen
Modelling for Levi's
1990 commercial 'camera' for 501 original jeans
Videos
External links
Ad blocker interference detected!
Wikia is a free-to-use site that makes money from advertising. We have a modified experience for viewers using ad blockers

Wikia is not accessible if you've made further modifications. Remove the custom ad blocker rule(s) and the page will load as expected.