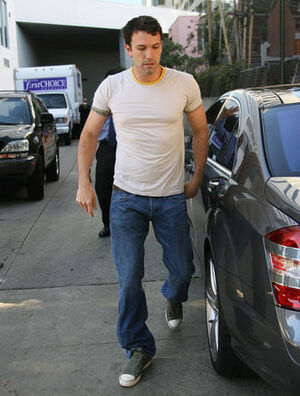 Benjamin Geza Affleck-Boldt, generally known as Ben Affleck, is an American actor, writer, director and filmmaker. He was born on August 15, 1972 in Berkeley, California.
Ben Affleck began his career as a child actor in 1984. He became especially known as Chuckie Sullivan in Good Will Hunting (1997) for which, together with his friend Matt Damon who portrayed Will Hunting, he also wrote the screenplay that won the Academy Award and Golden Globe Award for Best Original Screenplay. Since then, he has appeared in abot 50 cinema movies. The first movie he directed (and also wrote) was Gone Baby Gone (2007).
Images
Public appearances
Photoshoots
Onscreen
External links
Ad blocker interference detected!
Wikia is a free-to-use site that makes money from advertising. We have a modified experience for viewers using ad blockers

Wikia is not accessible if you've made further modifications. Remove the custom ad blocker rule(s) and the page will load as expected.